*Taboo Faricoon*PL*
| | |
| --- | --- |
| Sire | Dam |
| | | | |
| --- | --- | --- | --- |
| | | N*Artic Coon's Wild Majesty | IC. Maine Coon Dynasty's Yukon |
| | | Racoones Mercedes | IC. N*Artic Coons Koz & Kaos |
| | Racoones Sire Lucky Luke | | TICA GC. Willowplace Rocky Star of Racoones |
| CH. N*Artic Coons Carreras | | | Willowplace Niagara of Racoones |
| | N*Artic Coon's Sharon Stone | | SW)) EC & GIP. N*Artic Coons Full Moon |
| | | N*Artic Coon's Quatro | Brocstar Jackie Coonedy |
| | | SWO1 EC. N*Artic Coon's Biscaya | DK*Guldfakse's Tuscon of Sarafina |
| | | | IC. S*Glowcoon's Blue Pigeon |
| | | | EC. Yankee Cats Jack )O'Neil |
| | | | IC. All Roads Lead To Maine's Amber-Ebony |
| | | CH. All Roads Lead To Maine's Nantucket-Bentley | True Angel's Elevator Boy |
| | Carolingians Fintan | True Angel's Arwen | Fritzi vom Wiesenhugel |
| White Rock's Razamatazz | | | INT. CH. Mama's Jungle From Heartmountain |
| | D*Catnoox Pocachontas | INT. CH. Sundercat Tom O'Melly of Catnoox | INT. CH. Blanche von Buddenbrook |
| | | D*Lachtetals Kylie Color Me Bad | CFA GC. Coonmora's Jim Beam of Angelminds |
| | | | Lachtetals Gun's N'Roses |
Taboo is a super boy, he has a very strong powerful look, some visitors have commented on him looking fierce, but he is so gentle and getting more and more beautiful as he matures.
He has a beautiful black glossy coat, so in order for his features to show up in photographs I have lightened the images.
He is just under a year old in the following photos.
Hope you enjoy this beautiful boy.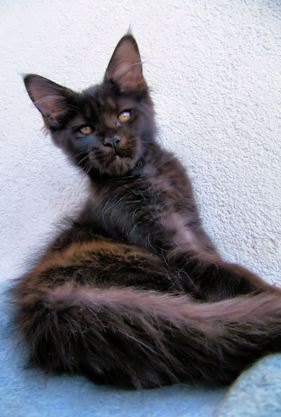 Taboo 04/04/2010